We're Getting Mutants in the MCU - The Loop
Play Sound
Volume Five is the 5th volume of The World God Only Knows.
Synopsis
Jun Nagase is a young teacher in training with strong ideals. But she has never met a student like Keima Katsuragi, a renowned gal gamer. Now he attempts to extract the runaway spirit that is hiding within her heart, that is filled with uneasiness. Then the Capturing God's skills are put to the ultimate test when he encounters Tsukiyo, a girl whose obsession with her own ideal world matches his own. But it does not stop there, as an abnormalty makes it harder for the Capture God to conquer this girl. This volume completes the Jun arc and covers the Tsukiyo arc.

Chapters List
Extras
Maijima High Map and Guide
Bonus Illustration
Character Profiles (with author's memo)
On cover, Tsukiyo and Jun with short background info about them
Character 4-koma
Omake
Differences from the tankoubon chapter
Flag 37:

Other students' normal conversation bubbles changed into thought bubbles commenting Jun's accompanying Keima. (Page 14 - Middle panel)

Flag 41:

Jun's words changed from "But, I'll make you stop playing games. Be ready for it!" to "That's why, this is the last time I'll show myself up not as a teacher to you." (Page 17 - Second-last panel)

Flag 44: Chapter title changed from "The Half Moon is the Color of Love" to "Half Moon of Love".
Flag 46:

A slight difference on how Keima's mouth was drawn. (Page 8 - Last panel)
Again, A slight difference on how Keima's mouth was drawn. (Page 11 - First panel)
Omake Synopsis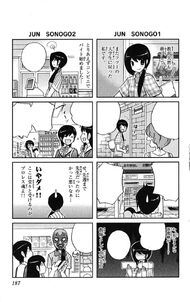 Synopsis
In the first panel, we see that Jun has returned to her apartment after her weeks of being a student-teacher. She has to pay the rent, but she for some reason does not have money in her account. She doesn't even remember why she spent this money on a wrestling show and a PFP while she was a student-teacher. In the next panel, she is working at a convenient store to raise money in order pay for the rent. One time, students from Jun's student-teacher class come to the store, and she does not wish to be seen by them. To hide herself, she puts on a wrestling mask to hide her face.
In the third panel, Jun looks back at what she learned as a student-teacher. She felt that she needed to relax more and consults Nikaido. Nikaido agrees with her and says that she should relax her shoulder more to allow a punishment punch to be more effective. In the last panel, Jun looks back on how the way the teachers treated their students caused problems, especially Nikaido who wore tempting clothes. Jun thinks about what a relationship between students and teachers should be like, but gets embarrassed when she remembers a kiss with a forgotten student...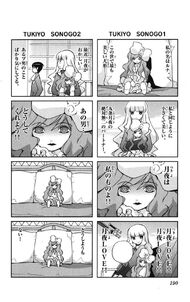 Synopsis
In the first panel, the story starts from Luna's point of view. She introduces herself nicely, but becomes obsessed when it comes to Tsukiyo to the point of saying "Tsukiyo LOVE". In the next panel, Luna observes that Tsukiyo has been paying some sort of attention to a different man (Keima). Luna wants to deal with him, but is unable to do so as she is a doll.
In the third panel, Tsukiyo and Luna are on the 3rd-floor veranda of the school. The both of them sees Keima walking by, to which Luna sees as a chance to "deal with" him. She somehow makes herself drop, but misses her target. In the last panel, after falling from so high, Tsukiyo is very concerned of Luna's condition. Luna sees that she does not have to deal with the man, as she is still most precious to Tsukiyo. But she now wonders where her leg has gone, which was taken by a stray cat when Luna fell.