We're Getting Mutants in the MCU - The Loop
Play Sound

Volume Four is the 4th volume of The World God Only Knows.
Synopsis
Haqua visits Keima's house to fill out a report on the recent capture of spirits. She doesn't remember every aspect of the capture, so she asks Elsie and Keima for help, which leads to a disaster by the end of the day. The next school day, Elsie senses a spirit in Chihiro. Keima is stumped by this event for Chihiro is a mob character, or "the regular of the regular", who has no retaining characteristics. But after some time, Keima sees that even the regular has the necessary characteristics to be captured. After Keima captures the spirit within Chihiro, a new woman comes to Maijima high as a teacher-in-training: Jun Nagase.

Chapters List
Extras
Map and Info on Narusawa city and Maijima city
Bonus Illustration
Character Profile (with author's memo)
On cover, Chihiro with short background info about her
Character 4-koma
Omake
Differences from the tankoubon chapter
Flag 32:

Addition of Haqua's photo on bottom-left corner. (Page 17 - Third panel)

Flag 33:

Chapter title changed from "Kami-sama's Dynamic Shopping" to "Her First Errand".
Elsie's pupil is dilated. (Page 12 - Second-last panel)
Storekeeper's conversation bubble changed to his inner thought about Elsie's clothes. (Page 18 - Third panel)

Flag 36:

Jun's mouth is slightly opened compared to the original chapter. (Page 3 - First panel)
Small conversation bubble addition on bottom-left corner near Jumbo Tsuruma. (Page 16 - First panel)
Omake Synopsis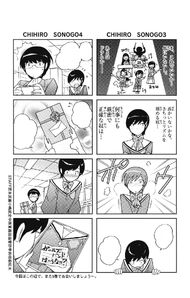 Synopsis
In the first 4-koma, Chihiro is thinking about assembling the band, and have Elsie play the guitar. But when she looks over to the Elsie in real time, Chihiro changes her mind and tries to recruit Miyako. In the next 4-koma, Chihiro sees that Ayumi is fit for the drums. Yet again, Chihiro thinks that Ayumi will make a mess if she does play the drums.
In the third 4-koma, Chihiro is stuck about the fifth member: the drummer. She thinks who it should be, but then she feels a heart-throbbing sensation. She wonders what it is. In the last 4-koma, Chihiro approaches Keima with a gift, and walks away. When Keima opens the gift, it is a girl's uniform with a note saying "Would you like to join a girl's band?"