Volume Two is the 2nd volume of The World God Only Knows.
Synopsis
Keima Katsuragi, our gal-gaming fanatic protagonist, finds himself in an interesting position with his next capture targets as they become more and more unusual. His troubles do not end, when his devil-of-a-sister tries to impress him; even though it ultimately doesn't in most ways. Can the Capturing God win two more hearts and still find the time for his beloved games? This volume covers two girls: Kanon Nakagawa, a newly risen idol who is desperate for attention that she once didn't have, and Shiori Shiomiya, a quiet librarian who lacks the courage to speak her inner thoughts.

Chapters List
Extras
Special: "Changing World"<br./>(変わるセカイ, "Kawaru sekai")
Bonus Illustrations
Character Profiles (with author's memo)
On cover, Kanon and Shiori with short background info about them
Character 4-koma
Omake
Differences from the tankoubon chapter
Kanon's name revised to Nakagawa Kanon.
Flag 7:

Elsie wears a ribbon like Kanon throughout the chapter.
Elsie's pupil color/design changed. (Page 1)
Elsie's jumping SFX added. (Page 14 - Last panel)
Keima is holding PFP in his hand while being electrocuted. (Page 15 - Fourth panel)

Flag 8:

Again, Keima is holding PFP in his hand while being electrocuted in the flashback. (Page 3 - Fourth panel)
The SFX color is black instead of white. (Page 16 - Third panel)
Keima mumbling "I…i…ignore it!!" in his sleep. (Page 17 - First panel)

Flag 9:

Keima's thoughts "No, there is one thing missing" omitted. (Page 17 - Last panel)

Flag 16:

Panel change, into Shiori facing left saying, "I have to protect my precious library! I absolutely refuse such a thing as an audiovisual booth!". (Page 4 - Last panel)
Omake Synopsis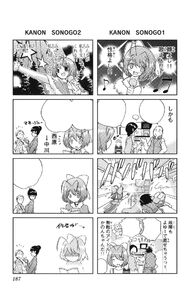 Kanon
Synopsis
In the first 4-koma, Kanon sees that everything is in good condition. Then she hears the camera is not working. Gloomed by this, Kanon electrifies the camera with her stun guns, which miraculously fixes it. "She's Kanon-chan, the invincible idol." In the second 4-koma, Kanon is well supported by everyone; she's not invisible. Soon, when Kanon reads the manga, she notices her name is different from the magazine and the volumes, from Nishihara to Nakagawa. Okada, her manager, states that the author made a mistake. Kanon becomes gloomed by this...
In the third 4-koma, it shows how Kanon progressed. First, she debuted for Citron with Lime and Yuri. When she took her glasses off, Kanon became the center of the group. After cutting her hair short, she became top idol. Okada wonders if they should remove Kanon's wisdom teeth to try and improve her fame. In the last 4-koma, the staff wonders what happened to Kanon. She trips every time the word 'kiss' comes up in her song, and also in front of the bald chief producer who wears a wig (katsura in Japanese). The staff wonders if the two events are related, and that Kanon and the Baldy has...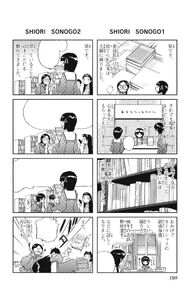 Shiori
Synopsis
In the first 4-koma, Shiori still has to donate some of the books of the library in order to fit in the audio section. Because of her yet small voice, she doesn't donate many. Instead, she herself takes in the books, memorizing their contents, though some are pointless information. In the second 4-koma, Shiori is able to express what she is thinking. But because she is not used to it, she talks for too long that she 'breaks down'.
In the third 4-koma, Shiori is introduced to the audio section. Though she enjoys listening to the music, she feels like it's going to quickly. Therefore, the only way she can appreciate the songs is to read the lyrics themselves. The last 4-koma, Shiori has started writing a story based on her faint memories of the time during her arc. Though she remembers some details, she does not remember anything about Keima himself. "There are also some slightly embarrassing scenes in it," Shiori thinks at times.