Volume Eleven is the 11th volume of The World God Only Knows. This is a very special one, as fans from all over the world were able to vote for their favorite female characters (the most popular being Elsie).
Synopsis
Hinoki Kasuga has become possessed by a level 4 spirit that was within her, and Keima is the only one who can stop it. Taking Kusunoki Kasuga with him, he enters Hinoki and defeats the inner monster. After the Level 4 is sealed by a mysterious figure, the runaway spirit squad cleans up the aftermath of the level 4 spirit's rampage. In the next or two days, Elsie feels down, for she couldn't do anything during the level 4 spirit. Seeing this, 2-B Pencil, especially Ayumi and Chihiro asks Keima to cheer Elsie up. Though at first he does not comply, he agrees to go and have a "date" with her. The "date" does not change the sister-brother relationship of the two, but it does cheer up Elsie.
Chapters List
Extras
Hell setting (with author's memo)
Character Profile (with author's memo)
On cover, Keima and quote
Character 4-koma
Omake
Calendar (limited edition)
After the so-called "date", Keima shows her that any game, as long as it's a game and that there's a girl at the end, it is a gal-game to him. Diana tells Keima to come to Dezney Sea if he wants to know of the goddesses more, but this is a trick so Tenri can go on a date with him. But this plan is ruined when he brings Haqua as a representative from Hell so they can discuss about goddesses...

Differences from the tankoubon chapter
Flag 97:

Extended panel, Kusunoki is shown holding a shopping bag. (Page 5 - Last panel)

Flag 98:

Conversation bubble addition, the contents are pretty much the same . (Page 16 - Third panel)

Flag 101:

Narrative rectangle bubble added with the same content, "Thus…". (Page 10 - Last panel)

Flag 102:

Elsie's bass case colored gray, while in the original it was white. (Page 3 - First panel)

Flag 105:

Haqua's runaway spirit sensor skull's eye is colored black, while the original wasn't colored. (Page 6 - Third last panel)
Omake Synopsis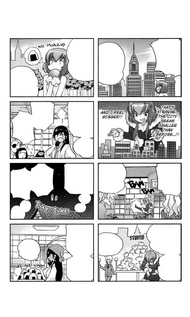 Synopsis
In the first panel, after moving back to USA, Hinoki knew that she belonged to this environment. But due to some of the effects from her arc, she thought about how the city seems smaller than it was before and she once felt she herself was bigger. She then stated that she will become a star. Because of she was once big, she thought she could eat a mountain of hamburgers, but currently, she can't.
In the next panel, Hinoki missed Japanese food, so she called her sister to prepare some rice balls for her, to which Kusunoki refused at first. But when Hinoki started the count-down to zero, Kusunoki started to cook all the rice ball, which Hinoki replied that she was just kidding. Kusunoki was so serious.
In the third panel, Hinoki was worried about her sister and she wanted to make Kusunoki a good woman. To do that, she then swapped all of Kusunoki's underwear with T-backs. When Kusunoki found out about it, she called Hinoki to ask where all of her underwear are, to which Hinoki said she threw them away. While searching for them in the trash, Kusunoki's subordinates asked her if she was sorting the garbage. Kusunoki commanded them to stay back.
In the last panel, Hinoki began phase two of her plan. She ordered Kusunoki to confess to Keima which she declined(again). But when Hinoki started her countdown (again), Kusunoki ran to Keima with a bouquet of flowers. Keima asked her what she wants while Kasuga wondered why she can't defy to Hinoki's countdown.
The World the Lil' Devil Only Knows III
Synopsis
In the background, Tenri is performing a magic trick.
In the panel, Elsie is determined to do what she likes : cooking and cleaning. But when she said she can do her best, she was looking at the fire truck. She stated thereafter that she will become a promising devil in the future which Keima replied that she is useless.