We're Getting Mutants in the MCU - The Loop
Play Sound
Volume 1

Volume Info
Release Date
July 11, 2008
Cover Character(s)
Keima Katsuragi
Heroines
Volume Guide
Previous
← None
Next
Volume 2 →
Volume One is the 1st volume of The World God Only Knows.
Synopsis
Gal gaming fanatic Keima Katsuragi (secretly known as the "Capturing God" by gamers, and as otamegane by his acquaintances) winds up tracking down escaped spirits with the 'help' of a cleaning demon named Elsie.
This volume covers the capturing of Ayumi Takahara, a track and field girl who loses confidence in running through the pressure exerted upon her by her senpai, and Mio Aoyama; a once-rich girl who tries to hold up her father's pride by continuing her facade of wealth.This volume also introduces the main characters and the setting.
Chapters List
Extras
Spot The Difference
Bonus Illustration
Character Profiles (with author's memo)
On cover, Ayumi and Mio with short background info about them
Character 4-koma
Early Character Designs
Omake
Omake Synopsis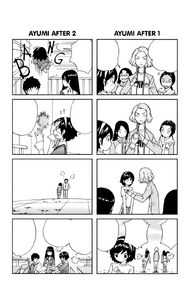 Synopsis
The first 4-koma shows Ayumi's senpai and her underlings that are disrespecting her win in the first chapter of Kami Nomi. But her senpai praises her instead of bullying her which also makes her underlings disagree for what she had done. The second 4-koma shows Ayumi not being able to stop running again. She states that if she goes on like this, she will end up dying. Later on, she tries to use spikes on her shoes, but is yelled at by a teacher for the spikes creates holes in the floor. During the lunch-break, Ayumi is upset by why the teacher scolded her, but her friends advises that she should just stop running in school.
In the third 4-koma, it is seen that the girls in track are tying their hair up; Ayumi's friends says that she is a trend-setter. But the day before a meet, all of the track girls are gone because of "injuries", which is also part of Ayumi trend-setting. In the last 4-koma, Ayumi's friends wonders why Ayumi has started calling Keima "Katsuragi" instead of the original "Otamegane". They think that Keima and she has become closer, but Ayumi denies it. To test this, her friends asks Ayumi to call Keima "Otamegane" once. Ayumi goes up to him and says "Otamegi". Ayumi returns, asking if that satisfies her friends, but her friends noticed that Ayumi mixed in Keima's name into the "Otamegane" to make "Otamegi". Her friends becomes much more interested...
Synopsis
The first 4-koma shows Morita lecturing about small change. Mio soon enough becomes upset because a smaller coin has more value than a larger coin, which confuses her. In the second 4-koma, Morita asks Mio to stop wearing high-boots. She agrees, but doesn't want to be looked down upon by the commoners. Anticipating this Morita brings out some roller skates that are just as tall as the boots, but Mio asks who'll pull her...
In the third 4-koma, Mio is seen praying to her dead father. Just when Morita felt proud that Mio has finally accepted her father's death, Morita questions why an omelet-soba bread is an offering to the dead. Because the expiration for the many omelet-soba breads are today, Mio and Morita stuff themselves, and has her father 'help' them out. In the last 4-koma, as Mio passes by Keima, she blushes. Thinking that Mio has become a normal girl by showing interest in a regular student, Morita is once again proud of her. But once he hears that Mio wishes to whip Keima for some reason, Morita prays for the safety of Mio.