Welcome to the The World God Only Knows Wiki
Tamiki Wakaki and published in the Weekly Shōnen Sunday magazine. It follows the life of Keima Katsuragi, an avid player of galges (dating simulation games), whose skills and website have given him internet fame as the "Capturing God". However, he has rejected reality in favor of the world in those games, and is known as "Otamegane" in his school. When Keima unwittingly signs a contract with Hell he is forced to assist Elucia de Lute Ima, a Demon, to capture evil spirits which have escaped from Hell, or else he has to face death. As the escaped spirits are hiding within 'gaps' within the hearts of girls caused by negative emotions, he must use his skills with gal games to replace those emotions with love. This wiki already has 66,158 edits and a total of 717 articles ever since its founding in July 2010.
---
The Kaminomi-Arena

Featured Article of the month

Vote for the Next Article
Read More
Latest Anime Episode
Flag 39: The Memory of My First Love
Summary: As Diana with Tenri are having an intimate talk and Haqua with Lune are fighting, Keima with Chihiro reach the ship at the seaside, where Ayumi is waiting.

Keima resolves to tell Ayumi the truth and says that he doesn't love her, but she wants to go on with the wedding anyway, as she claims it was her own decision, not the result of a conquest, that she fell in love with Keima. As they kiss, Mercury is brought out and Diana, with her power restored too, takes her sister to the Point Rock. Akari appears with the Runaway Spirit Squad and they depart too, for the final battle against Vintage.

As the goddesses free themselves and seal away the Weiss, Chihiro and Keima say their final goodbyes, the former departing for her concert. Even though three band members are late, they manage to perform without additional problems and Kanon also joins them. During the song, however, Chihiro sees the goddesses for the first time and cries as her love for Keima comes to an end, with Keima doing the same in isolation.

With Vintage defeated, Elsie back and Haqua restored to position, Keima has all the time in the world to play games again, but doesn't seem too happy about it.
Want a more detailed summary? <br./>Want to check more episodes???
Latest Volume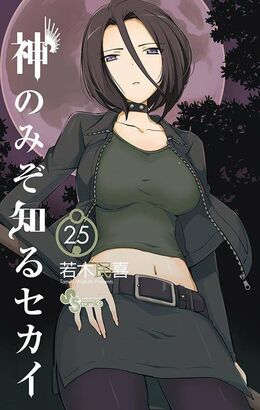 Released on: March 18, 2014
Keima has finally stopped to act by himself, and now relies on Tenri's help in order to create the "beginning" of his story but... how will Tenri react to Keima's revelations? In the meantime, in the present, the hosts are unknowingly starting to assemble and the truth about the whole incident is about to get out...
Know more about the latest volume here!
<twitteruser username=WikiaAnime limit=3 />